Do you know/remember websites like "Hot or not" or even "Goth or Not". In the case of "Hot or not", the primary goal of this website is simple; the main thing you need to do is judge whether or not someone is "hot" on a 1 to 10 scale. The concept is simple but addictive. However, what if a similar website was created concerning brands instead of people? In a quest to share his interests for branding, my friend and colleague Bob Mackalski just launched last week a nonprofit website entitled BrandMojo.org.

BrandMojo.org – What you need to do
So what is BrandMojo? Similarly to a website like "Hot or not", all you need to do is to rate brands on a 1 to 5 scale, and if you don't know a brand, you only need to press on the "skip" button. You can choose from four different types of brands: (1) Celebrities, (2) Corporate organizations, (3) Non-profit organizations, and (4) Geography.
The addictive part
The addictive part of this website comes from the fact that after rating a brand, you got the average score given by other participants on this brand. In this way, every time you rate one brand, you want to know if your perception is similar to others' or if you just have awkward tastes. If you think it's not addictive, just think more than 15,000 ratings have been made for the last week alone; I think some people find it addictive for sure!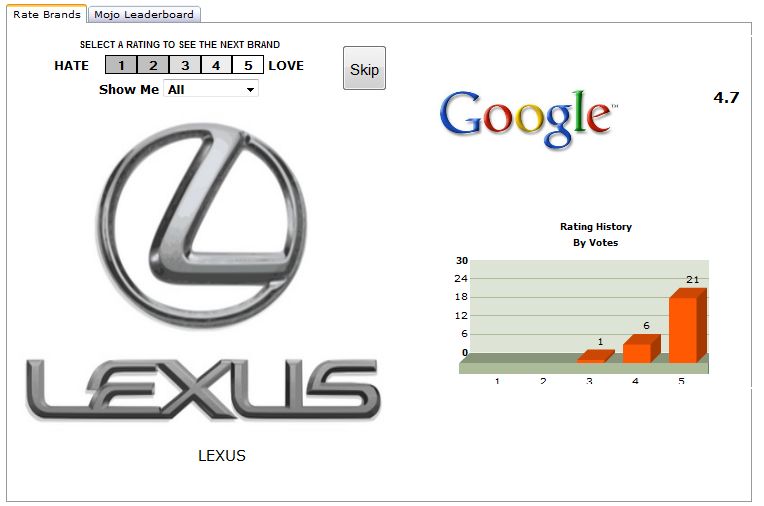 Conclusion
Even though this website is all about having fun, how do you think this kind of website can be useful for managers? Do you think some modifications/extensions could be made to this website to make it even more managerially helpful or even more addictive? Feel free to express yourself!
Jean-Francois Belisle
If you like this post, be sure to subscribe to Jean-Francois Belisle RSS feed!