Its official, PhD Candidate is my new academic title! I officially passed my comprehensive exams. I remember when I was a kid, at the age of 8, I was compiling and computing hockey statistics and getting to University seemed far away from me. I finally reached that level like a "grinder" in hockey, with hard-nosed efforts and a "no pain, no gain" mentality. Even for my first semester at University, I continued like a grinder, but maybe for the first time, my talent was recognized mostly like a "sniper". Anyway, this post should be about PhD candidacy which is only the second step in my 7-step process related to PhD studies. I don't know why but that 7-step process reminds me the geeky college-type of the "not-at-all famous" punk-rock song by Nerf Herder entitled "Welcome to my World". So welcome to my world in 7 steps!
Step 1 – Starting the PhD
I personally think that a strong tendency especially in PhD in management/business administration, is that many students starts a PhD degree without really knowing that a PhD is not a practical post-MBA, it's all about research, RESEARCH, or if you prefer, theoretical research, if it's too applied it's not research, and what practitioners called "research" is not research for academics. What companies called "white papers", that's not research for academics. For that point, I was already well-trained at the undergraduate level when Professors keep telling us that in economics you need a Master degree or a PhD to be considered as an expert, and that applications come from strong theories. However, what I did not expect is that if you start a PhD in business, another tendency that is growing in importance is the need to have a strong knowledge in your minor area of concentration. In my case it is Statistics/Mathematics, and I must say that even though I had a strong knowledge of applied statistics before entering the program, I lacked some advanced fundamental knowledge which I now master to an appreciable level after hours of readings and computing with my favorite software (thanks to R and the beloved community).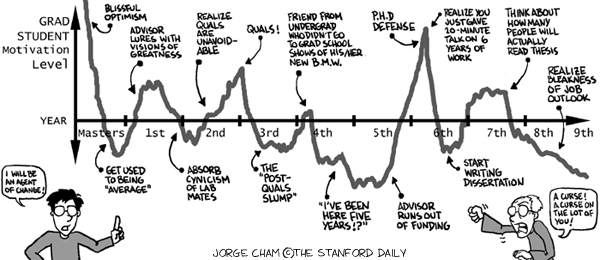 Step 2 – Advancing to PhD Candidacy
That's now where I am, realizing that most people don't know what a PhD candidate is, and that was obviously my case before getting into that universe anyway. In fact, a PhD candidate is simply a PhD student that has satisfied the requirements both in terms of coursework completion and in terms of comprehensive examinations, which means that all is left is dissertation. Does that mean that you don't attend courses anymore? Not necessarily if you're like me.
Step 3 – Getting the Informal ABD Title
My next step is to get my ABD informal academic title (All But Dissertation), and in terms of McGill University requirements, I need to write a theory paper, which is broadly a theoretical paper where you describe and define in a genuine fashion an important emerging (or not-at-all-emerging) series of untested relationships. This is mainly the theoretical basis for my dissertation which will include three essays.
Step 4 – The Dissertation proposal
The dissertation proposal is the step where you present/propose the developments of your dissertation, sometimes it's before collecting data, in other cases it's after collecting data. However, I have been told, that if you're well-advised on a week-by-week schedule, this step should not kill you.
Step 5 – The Academic Job market
The academic job market is ultra-organized and has even generated academic papers. For marketing students looking for jobs in the Occidental system (North America and some universities in Europe and Asia that follows the North American model) there is a classic procedure to follow. Thus, every year, from April to beginning of August, PhD candidate send on average 80 job applications to universities were they want to be potentially hired. Thereafter, around mid-August, for three to four days, academic institutions meet up second-round candidates at the AMA (American Marketing Association) Summer Conference to interview them. The third-round candidates then received a campus visit invitation where they have to present one of their advanced papers labelled as the "job market paper". Thereafter, those who best fit the hiring university requirements are hired.
Step 6 – Being Hired as an Assistant Professor
That's mainly the outcome of Step 5, but that's an extremely stressful moment, anyway! Once hired, you start as an Assistant Professor, but here is a complete list of most titles in academic.
Step 7 – Defending the dissertation
That's the moment I am waiting for, submitting the final dissertation followed by a 40-minute oral defense.
Conclusion
Briefly, I'm not over yet! Thinking about starting a PhD, come and see me, I'll give you pros and cons and tell you if that type of life is made for you! Any comments?
Keep on Keeping On! (like my advisor would say)
Jean-Francois
If you like this post, be sure to subscribe to Jean-Francois Belisle RSS feed!