This blog is now 2 years old and I'm happily surprised of its evolution during that period. Overall, the blog has reached an average of approximately 2150 visitors per month for the last three months. It has reached a diversified audience visiting from the United States (27%), Canada (22%), and from 127 other countries around the world, from the United Kingdom (UK) to Germany, from India to Australia. 54 posts, 295 comments posted by well-informed readers, and 3773 spams deleted (thanks to the Akismet plug-in) later, this blog has continuously evolved, and will continue to evolve as long as I continue to evolve as a person. Thanks to PhD colleagues, ex-students, ex-colleagues, practitioners' friends and web enthusiasts who have visited this blog during the last 2 years.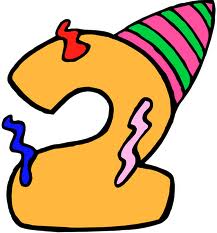 I'm satisfied of the outcomes related to the time devoted to learn how to blog properly in search of a WOW effect, how to use the WordPress plug-ins adequately and how to answer amazing comments, while learning and gaining insights from these comments and discussions. This blog has also been a versatile way for me to apply tips and thoughts learned from consulting, research and teaching.
More like a Website less like a Blog
More and more, this blog has become part of an entire website. New sections entitled "Consulting", "Speaking" and "Useful Links" have been recently added. Look for more sections and especially links to useful resources to come during the next year.
A New Headline: Marketing, Analytics & Entertainment
I've recently changed the headline of the whole website from "E-Marketing, Analytics & Entertainment" to "Marketing, Analytics & Entertainment".
I changed "E-Marketing" to "Marketing", keeping the online marketing portion but orienting the discussion towards an integrated view of marketing rather than a more restricted one.
I also decided to drop "Technology", since technology is mostly related to tools and I don't think I can really compete with gadgets-and-tools-oriented websites such as "Mashable", "TechCrunch" or "ReadWriteWeb" for audience concerning technology. However, how marketers and statisticians use technology to get insights is more important to me than describing a new technology. Furthermore, this blog is moving more towards analytics, such as web analytics, data mining, business intelligence and statistics. My last three posts are crystal-clear examples of this type of post, but posts such as My Top 10 Superbowl Commercials for 2011 will remain part of this blog. I also recently added a plug-in to add equations in LaTeX, but don't worry this blog won't become flooded with equations. Thus, tools and technology will still be discussed, but especially as a support for analytics and entertainment.
I kept the word "Entertainment", since I thought writing in an entertaining fashion or writing about entertainment in a geeky fashion is a pleasure for me and I hope for the reader/you too. I personally don't think I am boring person and I don't want this blog to be boring. The day I'll stop joking, that day I'll stop blogging.
In Search of Quality Rather than Quantity – A New Schedule
If there is something I learned during my PhD studies is that quality is even more important than quantity. I get "spammed" by bloggers who posts too much information and of too low-quality. Quantity of bad or average quality is spam for me. I don't want to overwhelm anyone with too many posts and I personally don't have time to overwhelm anyone, quality is my objective. A clear example that comes from the academic world is that from an expertise point of view, you're better off writing fewer papers that are of great quality and that will receive more citations, than to write many crappy papers published in obscure journals that will get no citation except self-citations. In this sense, this blog has recently moved towards a biweekly schedule, which means that there will be a post every two week, except during vacations where no posts will be published.
The Newsletter to Follow More Easily
As a last point, if you want to have biweekly updates of this blog, feel free to register to the blog via either e-mail or via RSS feed reader, these are clear practical ways to receive updates without having to type the website URL every time.
Conclusion
Enjoy the hockey playoffs, enjoy your exams if you still have some to complete, enjoy Summer, and as a conclusion enjoy my blog!
Cheers,
Jean-Francois Belisle
If you like this post, be sure to subscribe to Jean-Francois Belisle RSS feed!