Strategic Marketing thoughts and analytics are the future of business. This first sentence reflects my own opinion and is mainly written for search engines, the rest is not for machines but for you readers, :-).
I have been digitally absent during the last two months to focus on my PhD dissertation, challenging strategic marketing research-related projects and also to enjoy summer. After participating at both the Web Analytics Quebec Canada first UnConference and the ASAC conference, both held in Montreal, I then went on vacations on a 13-day road trip on Route 138 right away to the far east of the Côte-Nord region. It's always great to discover the beauties from around the world, but part of this beauty may be found locally too. I'm back to work since last Monday (July 25th), 3,226 kilometers later along with a heavy 5-week growing beard similar to Brian "fear the beard" Wilson (we nearly have the same age, same height and we'll both be in San Francisco next week, so I felt the comparison was of circumstances) that I will soon shave even though many Asian friends have already envied me.
My main guidance for this trip was hardcopies of pdf touristic guides and most iPhone applications were irrelevant during that trip, the only three I used were the WeatherEye, the Pedometer and the Maps applications.
The objective of this trip was to explore nature along with my girlfriend and relax. However, even though this trip has nothing really business-related, I decided that a "short" post on the business-related issues and marketing concepts I encountered could include interesting strategic marketing thoughts to share. Ready for the story? 13 days = 13 strategic marketing thoughts.
Day 1 – Montreal -> Quebec City OR The Dropkick Murphys Brand
I ended up the day attending at the "Festival d'été de Québec" two shows targeted to two diametrically opposite crowds: Dropkick Murphys and 12 Hommes Rapaillés. Here I will mainly focus on the first one from a brand perspective.
The first one was the Dropkick Murphys, an Irish-punk-rock band from Boston, Massachusetts and proud to come from there, a band I have been following since their beginning in the late 90's, mostly known to the mainstream audience for the song "Shipping up to Boston" which appeared in the award-winning movie "The Departed". As a "brand", the band heavily represents the city of Boston wherever they play by generally wearing sports jerseys from Boston sports team, especially the Boston Bruins and Boston Red Sox. They are also connected to some of the players. The Quebec crowd even had a special guest when Patrice Bergeron from the Boston Bruins made a special appearance on stage. The guitarist Ken Casey wore a Boston Bruins jersey with the number 4 in honor of Bobby Orr. In terms of brand congruency, the Dropkick Murphys brand is a great marketing example. It was thereafter time to grab a delightful beer at l'Inox before the next show.
Day 2 – Quebec City -> La Malbaie OR Charlevoix Famous Road Signals
After an employee noted my vehicle registration plate at Ste-Anne-de-Beaupré for touristic calculations purposes, we then headed up to the Charlevoix region. Forget about the agro-tourism, forget about artistic gifts, my main attraction when entering the Charlevoix region was to learn how to manage the use of my car brakes while dealing with the famous road signals such as the 18% hill slope at St-Joseph-de-la-Rive, a small town sadly known for Canadian most fatal accident when a bus crashes in the hill in 1997, killing 44 passengers; the slope is more secured since, but still heavy for brakes. On the other side, these high percentage hill slopes (between 8% and 18% at many places) are extremely great marketing signals to get more tourists which can be labeled as "adventurers".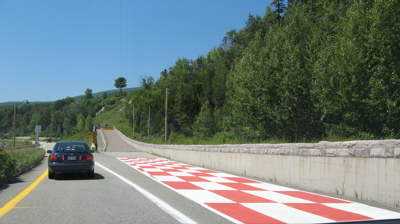 Day 3 – La Malbaie < -> Parc des Hautes-Gorges OR The Scarecrows Village
On the road to Parc des Hautes-Gorges, I was happily surprised by all the scarecrows I seen in St-Aimé-des-Lacs village, carefully handmade to make the village more enjoyable during the "Rodéo de Charlevoix" event that was held the month before. I find it a great way to build the branding of the village, unless you are scared by the Scarecrow in the Wizard of Oz.
Day 4 – La Malbaie -> Tadoussac OR The Whale Watching Industry
Tadoussac is a small touristic town with 850 people, but what it is mostly known for is its presence near the Saguenay Fjord, which makes it a perfect place for Whale Tourism. Before watching some whales, belugas and porpoises, I had some time to study the structure of the Whale Watching Tourism market which is mainly a duopoly where you have two generalist well-implemented players, AML and Dufour, while some smaller players such as Otis are also present. You can even buy tickets for Whale Watching in a 60-kilometer radius of Tadoussac. All in all, it was a nice small town with high prices that remembers me Norway and a high percentage of tourists from France. I had the worst bargain in terms of hotel prices of the entire road trip but that's part of the game I guess!
Day 5 – Tadoussac -> Baie Comeau OR The Sushi Restaurant in Baie Comeau
When I arrived to Baie-Comeau, I was hungry and I don't remember why but ended up watching the ad of a Sushi restaurant offering Japanese, Chinese and Vietnamese food, all at the same time. From a Montrealer's perspective, it first looks to me like a lack focus signaling a lack of quality. However, since the competition for Asian food is certainly lower in Baie Comeau than in Montreal, I guess that including more food types may be a great way to wider the audience in a smaller market. In a big city, this strategy would signal "lower quality" and would result in a wide audience reach but a low conversion rate. Any strategic marketing thoughts on this one? Anyone wants to conduct a field experiment with a 2 (focus: High vs. Low) X 2(City size: High vs. Low) experimental design with sales as a dependent variable? Finally, we ate some macaroni with cheese, anyway.
Day 6 – Baie Comeau -> Sept-Iles OR Manic-2 and Strategic Marketing
Day 6 started and culminated with the visit of the Manic-2 hydroelectric dam 22 kilometers north to Baie Comeau on route 389. The whole presentation was correct, but what really surprised me, and my girlfriend even more, was the way the presentation was framed. Since the hydroelectric dam is the property of Hydro-Quebec, the staff was trained to present a "pro-Hydro-Quebec" point of view rather than a scientific speech. I even had to fill a "Hydro-Quebec is great" survey at the end. Call it lack of transparency, call it great advertising, call what you want, at the end of the day, I would have done the same if I were Hydro-Quebec anyway!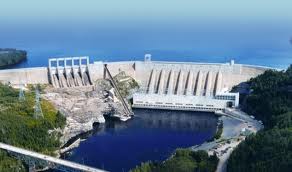 Day 7 – Sept-Iles -> Longue-Pointe-de-Mingan OR My Favorite Brand was AfterBite
This day was a global maximum (a culminating point) in terms of mosquito abundance, even equipped with my newly bought hunter orange cap; I can tell you that we lost the fight against mosquitoes. Anyway, my favorite brand for that day was AfterBite, and if I would have been a commerce manager, I would have put a rack full of these, right after the twilight zone.
Day 8 – Longue-Pointe-de-Mingan < -> Natashquan OR Bigger Than His Town
On Day 8, I finally reached the end of the road populated by lunar landscapes and plenty of bogs, and visited Natashquan, also known as Gilles Vigneault's village as popularized in his poems/songs. For the younger generation, with at least three honorific doctorates, Gilles Vigneault is to Natashquan what storyteller and singer Fred Pellerin is trying to be for St-Élie-de-Caxton. If there something I can say about Natashquan is that the city officers better take even more advantage of Gilles Vigneault's appurtenance to the village before and after he'll die, since there are not really a lot of industries that can be developed there due to the geographical location.
Day 9 – Longue-Pointe-de-Mingan -> Moisie OR "Chicouté" All The Way
Heading back on Route 138, this was the day the word "Chicouté" finally stuck in my head. Cloudberry, known in French as "Chicouté" or "Plaquebière" is a little fruit that has the texture of a blueberry and looks more like a raspberry. In anyways, I heard this word so much, that Côte-Nord touristic agents should put some "Chicouté" on the front page of the next Côte-Nord touristic guide since this fruit is so emblematic.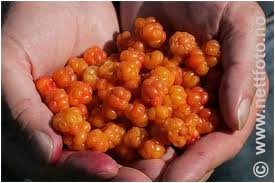 Day 10 – Moisie -> Baie-Trinite OR Drinking Coffee with a Straw at Tim Hortons
This day was mostly about shopping, visiting historical venues and trying my newly bought waterproof pair of boots. However, what really picked up my attention, and even more the one of my girlfriend, was the straw drinking habits of inhabitants ordering at the Tim Hortons in Sept-Iles. Most people were drinking their coffee with a straw which was, and is still, unusual for me. Using some deduction, I could suggest that this phenomenon is due to the fact that most people going to Tim Hortons are blue collars, most blue collars near Sept-Iles drive a lot, especially driving a truck, ranging from a "small" Ford F-150 to a mammoth construction truck, and since roads in Quebec are well-known to be "extremely well-paved and resistant to any climate", then it would reduce stains to use a straw to drink coffee. I also noticed after surfing the web that drinking coffee with a straw is better for your teeth even though it doesn't look really glamorous.
Day 11 – Baie-Trinite -> Portneuf-sur-Mer OR I Have a Glaciologist Apprentice License, so What?
Similarly to Day 10, this day was also dedicated to history due to the bad weather and also to my appetite to always learn more. Stories about mining/company city and a multimedia show about glaciology were part of the day. I even earned my "glaciologist apprentice license" while giving the wrong answer to most questions, c'mon, fail me if I suck folks, no pain no gain, even if it was designed for kids. No one is winning when everyone's winning.
Day 12 – Portneuf-sur-Mer -> Saint-Simeon OR Where Gas is Cheaper
The Sacre-Coeur/Forestville axis on Route 138 is certainly one of the areas with the lowest gas prices in Quebec. After filling my tank full at 1.44 per liter at Aguanish 4 days earlier, I filled it again at 1.27 per liter at Forestville. You can even find more information about gas prices on the web. Low municipal taxes and the proximity to an aboriginal reserve may have explained these prices.
Day 13 – Saint-Simeon -> Montreal OR The Last Tourist Trap
After seeing the car in front of me taking a police ticket after the bridge to Ile-d'Orleans, as a microbrewery fan, I stopped at Ile-d'Orleans near Quebec City for a beer at Ile-d'Orléans microbrewery. Ile-d'Orléans is certainly a beautiful place but what I was surprised is that prices were quite high for the same goods exported from this area that I would buy at a place near my home, let's say at the Jean-Talon Market or at the 350-different-beer convenience store near my home, maybe storage fees are sometimes higher than transportation fees or it's all about the markup?
Conclusion
These were great vacations! I hope you enjoyed the little strategic marketing-related story! The next step for me is the Summer AMA Marketing Conference in San Francisco where I will present along with my friend Robert Mackalski, and will attend presentations such as the one by Robert Cialdini. I should be back in two weeks with some more tasty content. Enjoy!
Jean-Francois Belisle
If you like this post, be sure to subscribe to Jean-Francois Belisle RSS feed!