I spent the last few days/weeks computing some R functions for automating a multiple variable selection of linear models using the LASSO and the SCAD penalties. It took me time to create my code, but at the end of the day, it is freshly automated and it is able to perform a statistical task in a few seconds which would have taken me days to run using standard statistical software.
And the Relationship with Online Marketing?
So what is the relationship with Online Marketing? Well, my automated program has allowed me to save time in the future, and that is exactly an objective that should achieve any organization who wants to take advantage of web features. However, these organizations should do even more than only saving time, they should also build online customer loyalty through automated programs. My latest example is related to a sport that I cherish, which is hockey. Living in Montreal, I have the chance to live in a city which is home to the team with the most Stanley Cups in the NHL history, the Montreal Canadians who played their home games at the Bell Center. I also have the chance to be 2 hours away from Ottawa (Ontario) where the Ottawa Senators play their home games at the "Scotia Bank Place" in Kanata, which is a few miles away from Ottawa. Over the last week, I attended a game in both of these arenas. This was the third time I went to Kanata to see a hockey game during this hockey season, and every time, a day before the game, I always receive an email similar to this one presented below.
"Dear Jean-Francois,
We are looking forward to seeing you on Game Day to watch the Ottawa Senators vs. Toronto Maple Leafs on March 6th, 2010 at 07:00 p.m.
Doors for Ottawa Senators games open at 5:30 p.m. for evening games, 11:30 for 1:00 p.m. games and 12:30 for 2:00 p.m. games.
Here's everything you need to know to make your game day run smoothly.
HOW TO GET HERE
• Scotiabank Place is a quick 15 minute drive from downtown Ottawa. Click here for directions and a map.
• Scotiabank Place Parking Tips
• Public Transportation
TICKET PICK-UP
Before the game:
If you haven't already received your tickets by mail, printed them on-line or picked them up, tickets can be picked up with the credit card used for purchase and photo ID matching the credit card at any Sports Experts location in Ottawa.
Paperless tickets:
If you selected paperless delivery, your tickets have been delivered to the credit card used for purchase. Bring your credit card used for purchase and your photo identification matching the credit card to the game. DO NOT visit the box office. Go directly to the ticket taker. They will swipe your credit card, verify your identification and print a receipt displaying your seat location.
TRADITIONAL TICKETS ARE NOT ISSUED WHEN SELECTING PAPERLESS TICKETS!
At the game:
Express Ticket Kiosks are located at Gate 1. Tickets may be picked up at the kiosks by swiping your credit card used for purchase or at the box office windows with credit card and photo ID. Wait times can be in excess of one hour so we recommend, when possible, picking up in advance!
WHERE TO EAT
Scotiabank Place – the place to eat. Six restaurants to suit every budget from stone-fired thin crust pizza to chef attended food stations featuring prime rib. Eat dinner then walk to your seats to enjoy the game! Reservations available at each restaurant.
Full restaurant descriptions and menus
RESERVE ONLINE or call: 613-599-2582
SCORE ONLINE
Score, the Ottawa Senators' game-day program, is now available online. Along with reader favourites such as player profiles and opponents previews, Score Online features bonus links to bio pages, video highlights and photo galleries. Click here for the latest edition."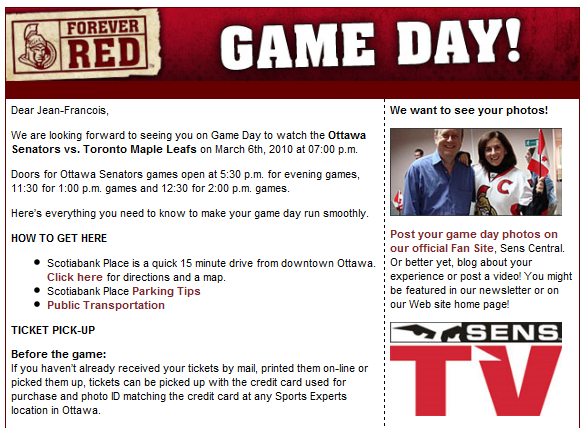 And After the Game
Furthermore, after each game in Kanata, I always receive an email similar to this one below.
"Dear Jean-Francois,
We hope you had a great time at the Sens game on March 6th, 2010.
FULL GAME RECAP
For a complete recap of the game, including player statistics and photo galleries, go to www.ottawasenators.com, your home for exclusive Ottawa Senators information.
You can also see the post-game interviews, video highlights and more on Sens TV
2010 Score Magazine Survey
Tell us what you think of Score, the Ottawa Senators' game-day program, by participating in this survey, and we'll enter you into a draw for two club seats to the Senators vs. Philadelphia Flyers game at Scotiabank Place on March 23.
Special post-game ticket offer
Eastern Conference battle! Watch Chris Pronger take on the Sens. Tickets starting as low as $39.14. This offer will apply to 100 ends,
200 ends and 300 upper and lower level.
– March 23 at 7:30 pm
Visit capitaltickets.ca/promo and reference the special code: XXXXXXXX
This offer ends Friday, March 19 at midnight and is available by Internet only."
… And With the Montreal Canadians?
That's not the end of the story, so what do I receive before and after each Montreal Canadians game? I always receive "nothing". The tickets are always sold out anyway even when the team is playing like a minor league team, so perhaps the organization thinks there is no need for building online customer loyalty through automated emails.
My conclusion
In conclusion, I am not a huge fan of any hockey team, I like the game from an objective perspective. However, last Saturday, I decided to buy a hockey shirt for the Ottawa Senators game, the game was coined as the "Battle of Ontario" and I decided to support the Ottawa Senators by buying a "Daniel Alfredsson" shirt, and sincerely the two emails that I showed you both had an impact on my decision of buying this item. So what is the lesson of this story? Don't take me for granted? Innovation in online sports marketing comes from organizations in markets where it is harder to load the arena? Anyway, any additional thoughts on the topic?
Jean-Francois Belisle