Bad events are always important opportunities to reinvent yourself or to think about what went wrong. The recession is/was a good example for many organizations. On a more personal side, this Wednesday, I dislocated my left shoulder and spent a beautiful six hours (11PM to 5AM) at the hospital waiting for this nightmare to end. I was playing hockey as a goaltender when I fell on my left shoulder; a second shoulder dislocation in the last five years. Everything's not lost, at least I am not a professional goaltender, this is not my career, God bless.
The Dan Blackburn story
This injury leads me to the story of Dan Blackburn. Dan Blackburn was a young goaltender born in Montréal in 1983, who was named in 2001 the Canadian Hockey League's (CHL; which includes QMJHL, OHL and WHL) most valuable player. The same year, he was drafted by the New York Rangers in the first round (10th overall) of the 2001 National Hockey League (NHL) Entry Draft. Blackburn made the New York Rangers team in 2001-2002 and became the third youngest goalie to win a NHL game. Unfortunately, two years later, Blackburn missed the entire 2003–04 NHL season due to a serious nerve injury to his left shoulder sustained just before training camp. He had nerve exploration surgery on March 31, 2004 and as his injury rendered him incapable of rotating his glove hand, Blackburn was forced to retired in 2005, at the age of 22. Afterwards, Blackburn enrolled at Arizona State University and became a manager of business development for the Goaltender Development Institute and now loves his new role. Even though Blackburn had to retire prematurely, his passion for hockey and knowledge of the game allowed him to continue to work in the same environment although in a totally different role. Other perhaps even more interesting examples in hockey also include former major NHL deception Gord Kluzak who ended up earning an MBA from Harvard University and having jobs as an analyst for Goldman Sachs and later on as a commentator for ESPN.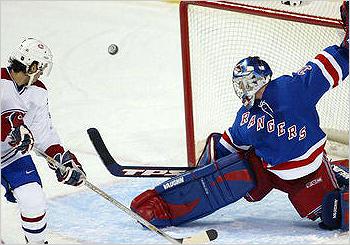 What can we learn from the Dan Blackburn story
Without wanting to make an Anthony Robbins of myself, the most important things we can learn from the Dan Blackburn/Gord Kluzak career changes are:
1. Past knowledge clearly helps in career change;
2. In terms of personal branding, being known helps to ease career switch;
3. Education brings credibility;
Past knowledge clearly helps in career change
In the case of Dan Blackburn, the knowledge he acquired as a goaltender and in hockey in general helped him to crack an organization using his past knowledge. He certainly had more than 10,000 hours of knowledge, passion and hard work under his belt. Even though he was quite raw in terms of business knowledge, he knew the industry before he stepped on the plate.
In terms of personal branding, being known helps to ease career switch
Connections are always important for future jobs; being connected with others in main social networks (Facebook, LinkedIn, Twitter) is always suggested. But being known because of positive screen presence is always an a priori edge for being hired. Olympic athletes, make yourselves visible!
Education brings credibility
I have always been a huge proponent of the argument that education brings success. Arguably, I am totally biased on this issue with four completed post-secondary degrees and another in-completion. Adding some letters on a business card like BBA or MBA is always useful and makes it easier to start many conversations.
Conclusion
So what do you think about the case story of Dan Blackburn? Do you know interesting examples of career changes that where really a success? Even more personal ones? Can you add a fourth point to my analysis?
Jean-Francois Belisle